Raw Black Soap

Genuine Organic African Black soap, Ghana Africa , it is a Fair Trade Federation product.
Don't be taken by the "black soaps" that are molded & black in color. Raw African Black soap is NOT molded or black, but is very rustic & homemade looking.
Used on every age, from newborn babies to the elderly, & used head to toe. Perfect as shampoo & all over bath soap. Also used in Africa for all kinds of skin conditions such as rashes, ringworm, acne, and eczema.
Ghana, Africa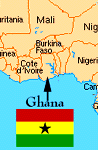 The Republic of Ghana, is a country located in West Africa.
The genuine product is made by first burning leaves and barks of a variety of tress and includes banana tree leaves, plantain skins, palm tree leaves and cocoa pods among others in a big vat.
The ash residue is then mixed with water and filtered out. To this mixture, ingredients like coconut, palm and palm kernel oils, shea butter and cocoa butter are added to make the soap.
Refreshing
The soap can be used on your face and hair and is said to help relieve rash, scalp irritation, dry skin, acne, oily skin and blemishes among other skin problems.
Black Soap has become very popular, its organic properties and its ability to cleanse skin.
African black soap recipes are handed down from generation to generation, and you will find that we have our own unique recipe for making the soap.
African Raw Black Soap Sold Here
We only sell "Raw Organic Black Soap"
African Raw Black Soap is one of the most beneficial yet unheard of soaps you will ever find. It is a natural source of vitamins A & E, iron and an all-natural cleanser. It helps relieve rashes, scalp irritations, oily skin, dry skin, acne, blemishes, eczema, and other skin problems. African Raw Black Soap gives your face a deep cleansing leaving it fresh, and healthier. African Raw Black Soap works well for all skin types from oily to dry. It can be used by any ethnicity and for men or women.
African Raw Black Soap is soft with an organic shape. It has a delicate texture and a natural, earthy smell. It is not oily, and can be used for hands, face, body and hair. It is most commonly found in Ghana, however other countries have their versions of black soap as well. Other words for black soap are Alata Samina, Anago Samina which comes from the Twi language in northern Ghana
experience our African black soap from recipes that were handed down from generation to generation right to Uncle James who was next inline to receive the secret recipes. We only sell Raw Organic black Soap from Ghana, Africa. Experience the benefits today!
The Benefits of African Raw Black Soap:
Helps deep clean skin, Works on most skin types including rough & dry or sensitive skin
Helps clear skin bumps and spots
Helps relieve acne, oily skin & other skin problems.
Great for removing makeup.
Works against premature facial lines and wrinkles.
Can be lathered and used as a shampoo.
Order your 8 oz Raw Organic Black Soap Here using our secure order form (paypal), you can also contact me direct at 419-215-7006. Thanks From my family to yours, Ricard Runles